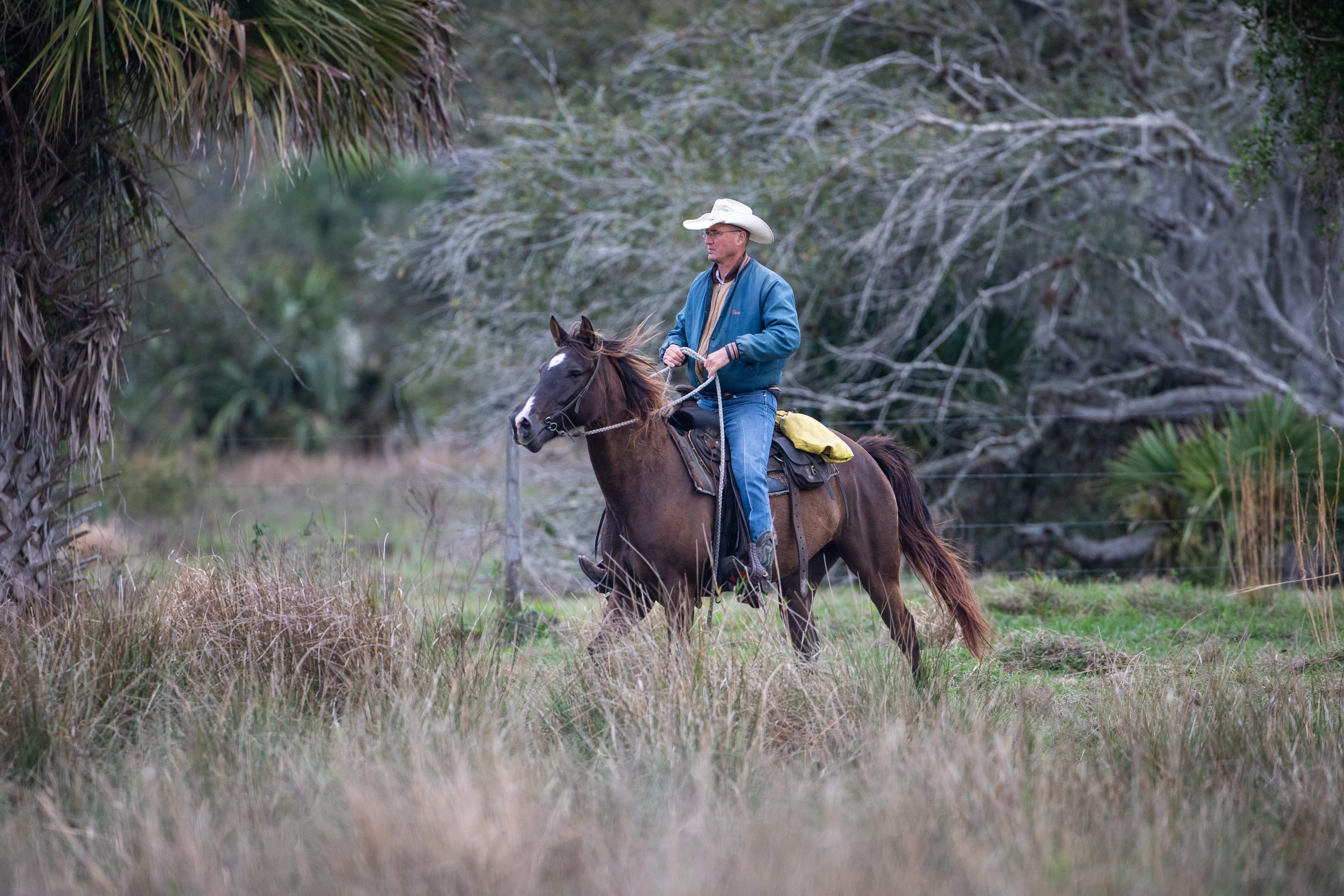 Legacy Lands: How Florida's Working Lands Hold the Key to Conservation
Florida's human population is booming. As our communities swell, demand for land escalates, placing enormous pressure on our foresters and ranchers to yield to the compelling offers of developers. But timberlands and ranches are the living, breathing heart of Florida and a critical part of conserving Florida's wildlife and wild places. These lands power our rural economies and are irreplaceable ecosystems that offer indispensable natural services, from hosting wildlife to purifying freshwater reserves and storing vast carbon stocks. These lands represent some of our state's last vast expanses, and without them, our wildlife corridors would be irretrievably lost.
Download the
handout

to learn more about how working lands are key to conservation:
Background
Florida is the third most populous state, with a population growing by 1130 people each day – equivalent to adding a new Miami's worth of people each year. With rapid growth comes development of rural and natural lands, along with greater demand for water.
What are working lands?
Working lands are agricultural areas, like timberlands and ranchlands, and are usually privately owned. They contribute billions of dollars annually to the state economy.
Timberlands cover more than one-third of the state (~15 million acres), and ranchlands cover about one-eighth (5.4 million acres). Ranchlands dominate private lands south of Orlando, while to the north, timberlands are more prevalent.
Why are working lands critical to conservation in Florida?
Timberland and ranches are low-intensity agricultural operations and provide excellent wildlife habitat and ecosystem services (e.g., water quality, food production, flood protection). After natural lands, low-intensity agriculture is the best land type for conservation in Florida, because pasture and timber forests are ecologically similar to native grasslands and woodlands.
Wildlife Habitat: Historically, much of southern Florida was grassland, wetland, or pine flatwoods. Now, ranchlands mimic the ecological function of those habitats, protecting species adapted to those landscapes, like the federally threatened Crested Caracara, Snail Kite, and Florida Panther. Similarly, timberlands harbor species adapted to pine flatwoods, like the threatened Red-cockaded Woodpecker and Eastern Indigo Snake.
Connectivity: Development blocks wildlife movement but the open landscapes of ranches and timberlands connect natural areas, especially important for species like the Florida Panther, Florida Black Bear, and Eastern Indigo Snake. This provides "functional connectivity", meaning that wildlife can move across the landscape from habitat patch to habitat patch, facilitating gene flow, recolonization, and adaptation to climate change. That means that certain wildlife species, especially those who have large territories, are much more likely to persist in Florida into the future.
Water: Ranches protect thousands of acres of intact wetlands and floodplains. Working lands help protect Florida's fresh water, filtering surface water, promoting groundwater recharge, reducing erosion, and providing opportunities to store water. They also help mitigate flood risk: when rainwater can stay where it lands, trickling into the soil instead of running off concrete, it helps reduce the possibility of flooding downstream.
Climate: Working lands store vast amounts of carbon in their extensive grasslands and woodlands. Florida's timberlands absorb and store significant amounts of carbon dioxide. When timber is harvested and used in long-lasting wood products, it continues to store carbon, reducing the overall carbon in the atmosphere. Management practices such as rotational grazing on ranchlands can further enhance soil health, promoting carbon storage and bolstering resilience against climate change.
The alternative to timber and ranching in Florida is development, which depletes ecosystem services, damages water resources, and displaces wildlife. Development is consuming Florida's natural lands, pastures, and timber plantations at a rate of almost 27,000 acres per year.
How do we protect our working lands from development?

Conservation easements are a good way to conserve our working lands. Easements can protect ecosystem services and provide a substantial economic return, as well as tax incentives, for landowners. In Florida, the Rural and Family Lands Protection Program is specifically aimed at protecting working lands, though other programs are available too!
Key References:
 Coffin, A.W., Sclater, V., Swain, H., Ponce-Campos, G.E., & Seymour, L. (2021) Ecosystem Services in Working Lands of the Southeastern USA. Front. Sustain. Food Syst. 5:541590. doi: 10.3389/fsufs.2021.541590
Kremen, C., & Merenlender, A. M. (2018). Landscapes that work for biodiversity and people. Science, 362(6412), eaau6020. doi:10.1126/science.aau6020

Main, M. B., Swisher, M. E., Mullahey, J., DeBusk, W., Shriar, A. J., Tanner, G. W., Selph, J., Hogue, P., Bohlen, P., & Allen, G. M. (2004). The Ecology and Economics of Florida's Ranches: WEC 187/UW202, rev. 9/2004. EDIS, 2004(14). doi: 10.32473/edis-uw202-2004
Paudel, S.,  Cobb, A. B.,  Boughton, E. H.,  Spiegal, S.,  Boughton, R. K.,  Silveira, M. L.,  Swain, H. M.,  Reuter, R., Goodman, L. E., and  Steiner, J. L..  (2021).  A framework for sustainable management of ecosystem services and disservices in perennial grassland agroecosystems. Ecosphere  12(11):e03837. doi: 10.1002/ecs2.3837

Silveira, M., Boughton, E., Swain, H., Boughton, R. (2018). Managing grazing land ecosystems for multiple ecosystem services. Journal of Animal Science, 96(3), 212. doi:10.1093/jas/sky404.460